Is it just me, or does a visit to Trader Joe's feel like a field trip?! I get so excited to walk in those doors…usually with a list so I don't go completely overboard! I know this sounds cheesy, but I can walk into a Trader Joe's in any city that we are visiting and it feels familiar because I know exactly what products I'm going for! Routine on the road is very comforting and often extremely hard to come by. 
So without further ado…here is my list of Trader Joe's Favorites! 
Produce Favorites: 
Arugula and Spinach – Consistently fresh and you can't beat the prices!
Hearts of Romaine – I use these to make lettuce wraps with ground turkey or to cut up for chopped salads! 
Organic Herb Salad Mix – A bag of organic greens and herbs! This is usually the base of my salads anyway so this mix makes my life so easy! 
Shaved Brussels Sprouts-If you like your Brussels extra crispy then this product is for you! I sauté them in olive oil then roast them until crispy! 
Bag of Cara Cara Oranges (or Navel Oranges when Cara Cara not in season) – They are delicious! One of our favorite wedding gifts is our Citrus Press. We use these oranges to make the best fresh-squeezed OJ to serve with breakfast or to make yummy margaritas! 
Bags of Lemons and Limes – Great deal at TJ's. I use them in lots of recipes and they make a perfect compliment to the fresh-squeezed OJ in our margaritas! 
Persian Cucumbers – These mini cucumbers are super crunchy and taste delicious in salads or dipped in guacamole or hummus!
Kumato Brown Tomatoes – Not the prettiest in color but sooo delicious! These are great in salads, on sandwiches, or as a snack! The best part? They're available year round! 
Tub of Basil – Before I had fresh basil growing in my backyard, this was my go-to when making pesto! 
Cheese:
Blueberry Vanilla Chèvre Log – This is a delicious purchase for last minute entertaining! To make it extremely decadent, serve it with TJ's Toasted Coconut Cookie Thins. This combo was given to me as a gift one Christmas and I've loved it ever since! 
Nuts:
"Just a handful of" 50% Less Salt Roasted Whole Cashews
– Just like the name says, these individual packets of cashews are the perfect portion for snacking or for making
The Defined Dish Lemon Basil Pesto
!
Raw Almonds – Another great snack! I almost always travel with these cashews or almonds.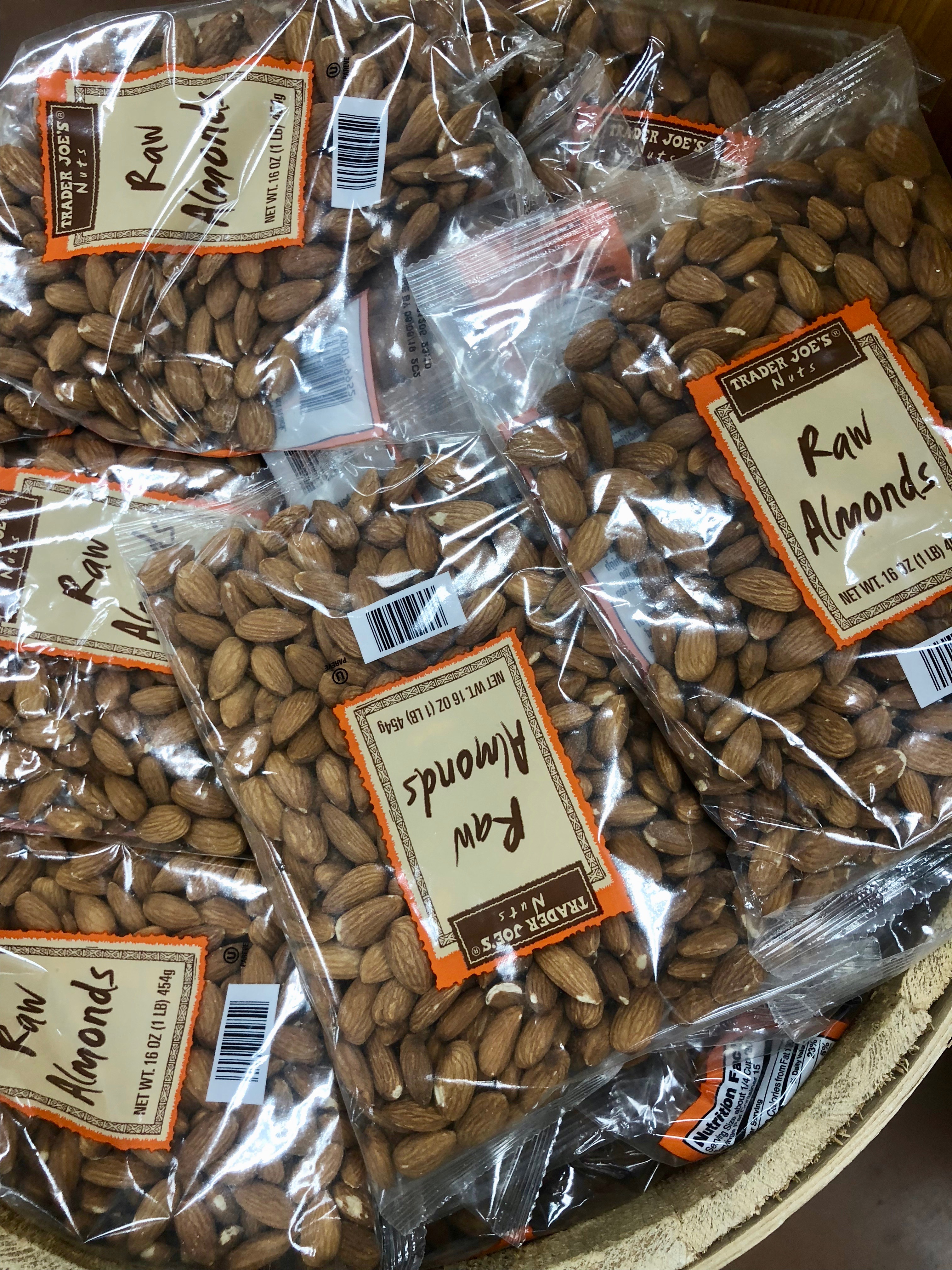 Refrigerated: 
Organic Hummus – I love this as a snack with carrots, red bell pepper strips, or Persian cucumbers as mentioned above!
Spicy Jalapeño Chicken Sausage – Sautéed and served on a salad, I use this to make one of my favorite lunches! 
Perfect Bar – It's no secret that I am a huge Perfect Bar fan! You can find Peanut Butter, Dark Chocolate and Peanut Butter, and Chocolate Walnut Brownie for just $1.99 at TJ's! (compared to $2.50+ at other grocery stores)! 
Bars: 
GoMacro Bars – A Fairway Finds favorite! TJ's carries the Peanut Butter Chocolate and the Sunflower Butter + Chocolate, both delicious! 
RX Bars – Another favorite bar of mine! They carry several flavors, including my all-time favorite, Chocolate Sea Salt. 
Epic Bars – The chicken sriracha bar is my favorite and has 100 calories, 15 grams of protein, and 0 grams of sugar! It's Whole30 approved and a great snack. 
Frozen: 
Frozen Fruit – A great price at Trader Joe's! We always have their blueberries or strawberries in our freezer for smoothies!
"Just Coconut Chunks"-The only ingredient? Coconut! And my latest favorite addition to smoothies! 
Organic Brown Rice – This is one of those items that is so convenient to have on hand to whip up a weeknight meal! It is ready in just 3 minutes and each bag (3 within the box) is portioned for 2 people. Add herbs, veggies, and protein to make a million different combos! 
Organic Riced Cauliflower – Perfect for a low carb meal and just like the brown rice, the options are endless. I also use this as a substitute for bananas in my smoothies sometimes (don't knock it 'til you try it)! I buy the fresh if they're out of the frozen and vice versa! 
Premium Salmon Burgers – I am a huge fan o
f these! I sauté then serve over a salad or a grain for a quick and delicious meal! 
Grocery:
Chia Seeds – I throw these in smoothies or use them when making Laura Lea Balanced
Blueberry Coconut Porridge
, one of my favorite make-ahead breakfast recipes! 
Unsweetened Coconut Flakes and Canned Coconut Milk – I also use these in the recipe above. 
Salsa Verde and Harrisa Salsa – My favorite use is to pour a jar of either of these over chicken in an Instant Pot or Crock Pot and BOOM you have a delicious protein to add to bowls and salads.
Fire Roasted Diced Green Chiles – I add a can of these when I'm making Salsa Verde chicken for an extra kick!
Nutritional Yeast – This is a vegetarian food that has a cheesy flavor. After seeing it listed in many recipes, I snagged a bag for a low price at TJ's!  I use it to make caesar dressing and sprinkle it on top of salad or pasta!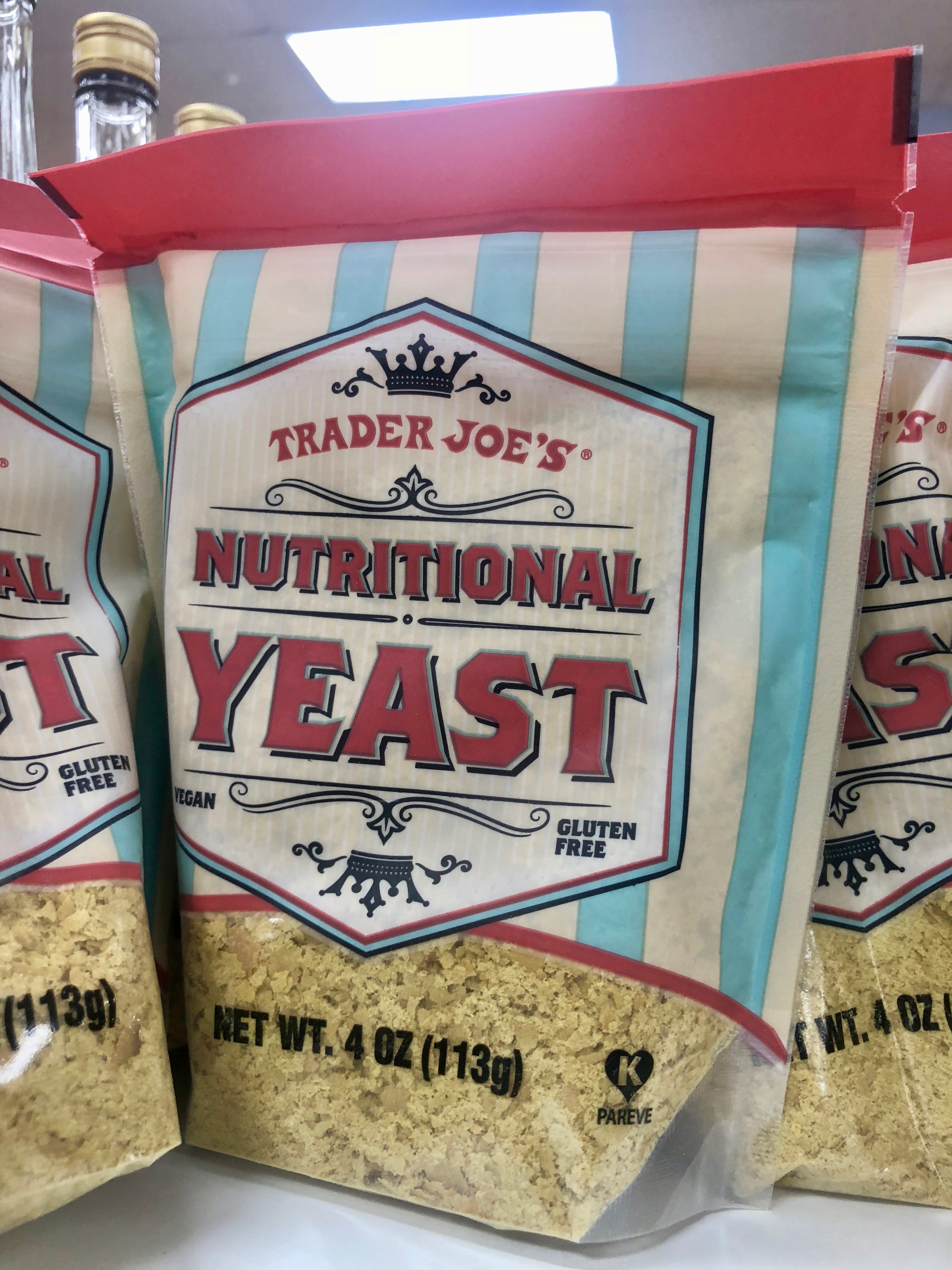 Organic Tri-Color Quinoa – Yummy for salads and bowls! 
Sauces, Seasonings, and Oils:
Green Dragon Hot Sauce – I add this to anything and everything, but it's especially delicious drizzled over the spicy jalapeño chicken sausage + salad that I mentioned earlier! 
Coconut Aminos – A Whole30 approved soy sauce alternative. This ingredient has become quite popular in recipes lately.  It's just $2.99 at TJ's compared to $6+ at other grocery stores! 
Red Boat Fish Sauce – Also Whole30 approved and used in many Asian recipes! Best price I've seen too! 
Onion Salt – A brown Kumato tomato (that I mentioned earlier) topped with this seasoning is the most delicious snack! I learned this trick from the in-store demo station at TJ's (You can't tell me you walk by without checking out the sample)!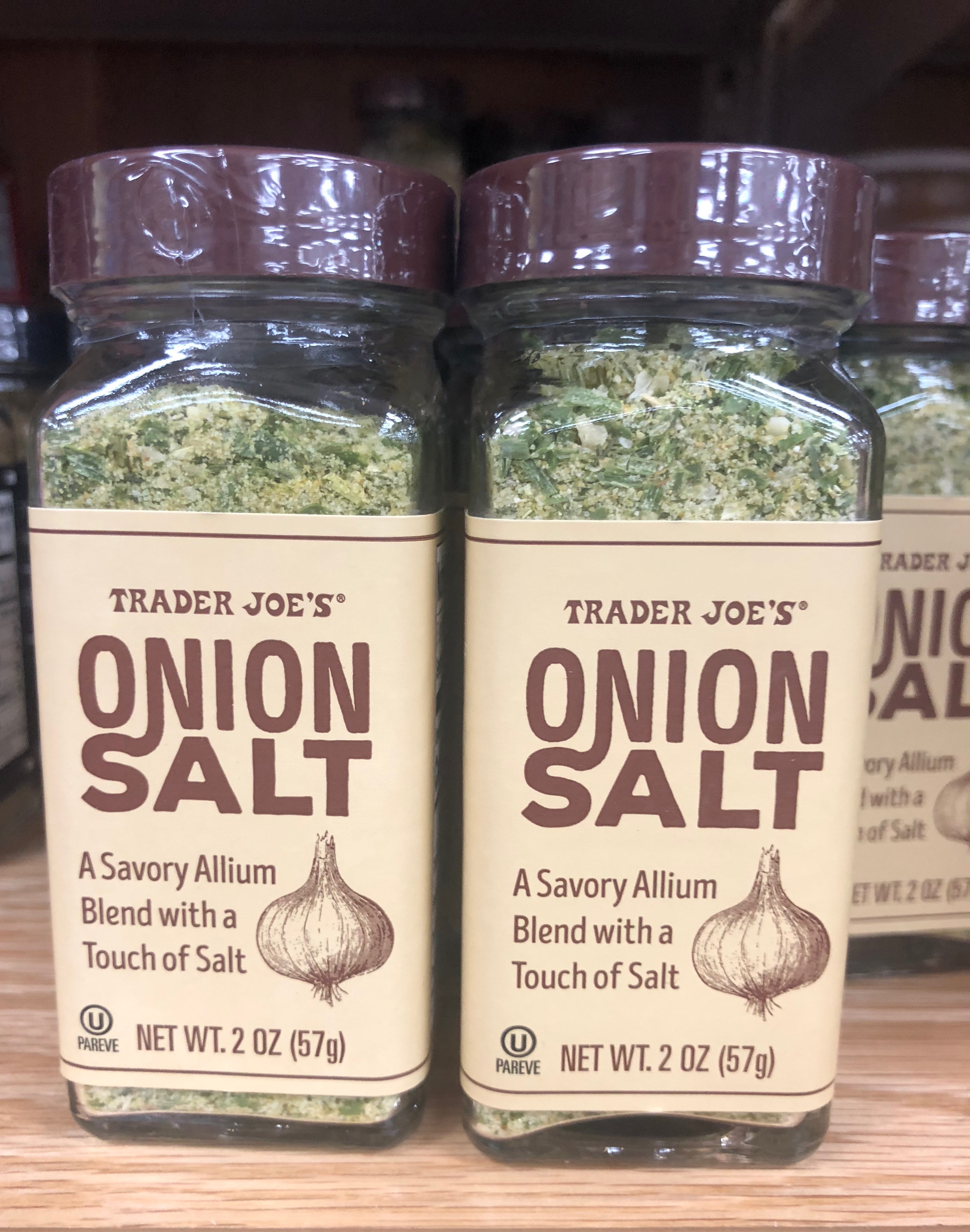 Everything But The Bagel Seasoning – I ALMOST didn't include this because #Basic, BUT I would be remiss if I didn't! It really is delicious on eggs and avocado toast. 
Avocado Oil – You just can't beat the price at TJ's! I use this interchangeably with extra virgin olive oil. 
Coconut Oil and Organic Olive Oil Spray – Great for cooking and baking!
Organic Virgin Coconut Oil Packets – These individual-size packets are perfect for travel! 
Sweet Treats: 
Dark Chocolate Nutty Bites – Pieces of dark choolate topped with nuts and a hint of sea salt! 
Dark Chocolate Peanut Butter Cups – That 99 cent bag that's usually hanging RIGHT BY THE REGISTER can be harddd to resist!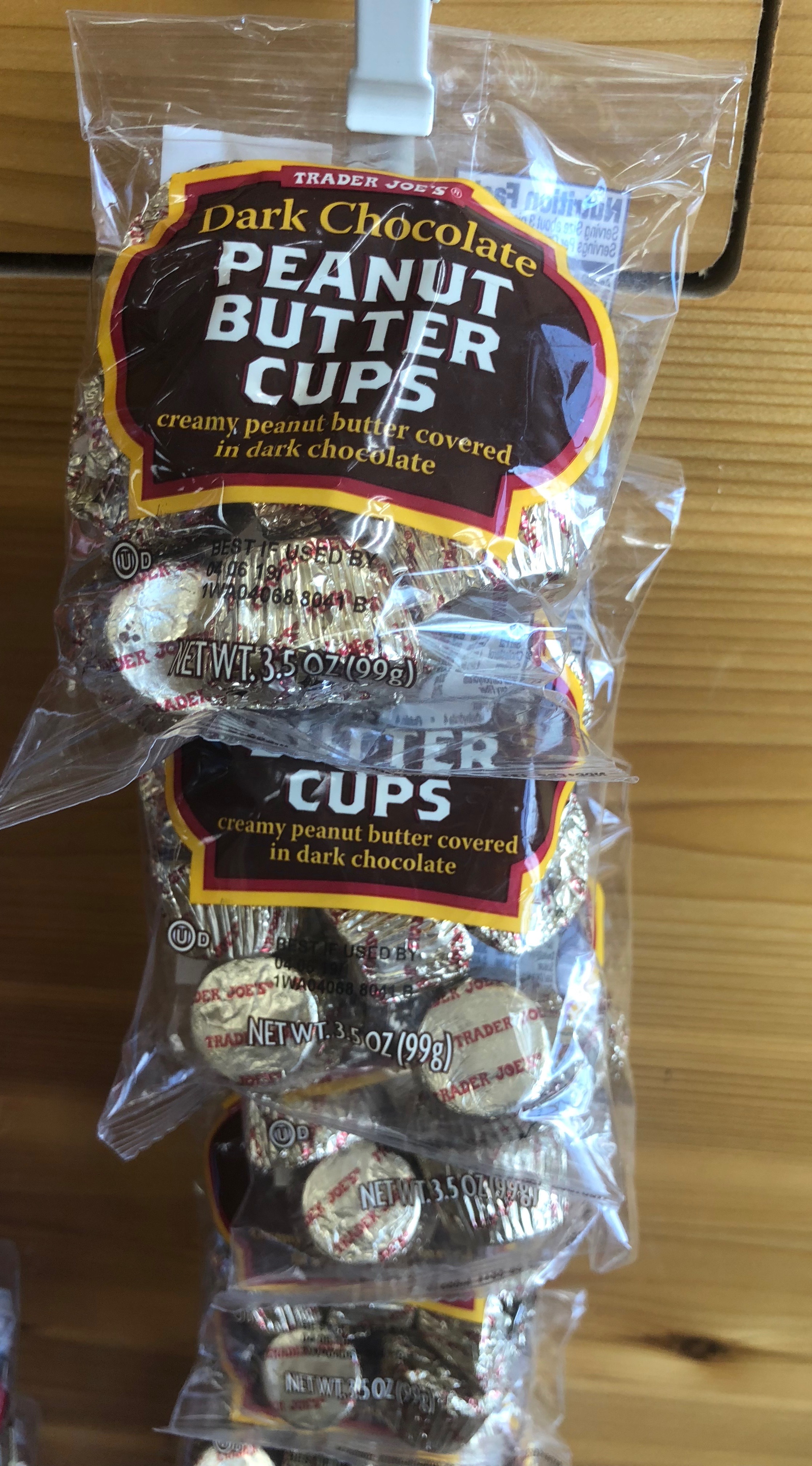 Miscellaneous:
Myntz Sugar-Free Breathmints in Wintermynt Blast – I always have a tin of these mints in my car and in my purse! They are strategically located at eye -level at the register! 
Fresh Flowers – The selection at TJ's is awesome and priced just right so no way I could leave these off my list of favorites! I confess I can't pass up the peonies when they are in season!  
One of my most favorite things about Trader Joe's is that everyone I know that shops there has unique products that they absolutely LOVE. I enjoy hearing about all the favorites and go-to items, so if you have some please share yours with me!
Always finding joy,
Francie